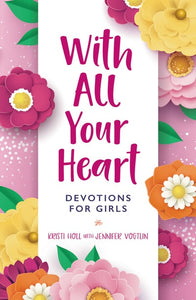 Beautiful and insightful, With All Your Heart offers girls 90 honest and relatable devotions to strengthen their heart, spirit, and faith.
God wants every girl to know she's awesome in his sight. He cares about everything—from boys to bullies, friends to future goals, disappointments to discoveries. In this ninety-day devotional, girls will grow closer to God as they share with him their everyday achievements and dilemmas.
Each devotion includes a Scripture verse, an encouraging message, discussion questions, and a short prayer. As they read through the devotions, girls will grow more confident in their faith and the plans God has for them. Page by page, girls will discover the amazing things in store for them when they follow God with all their heart.