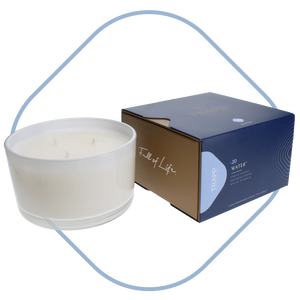 Fragrance Notes: Fresh Ozone, Aqueous Notes, White Florals
Luxurious fragrance blends to energize and rejuvenate your space with our new 3-wick candle. Our 3-wick candle is poured in a beautiful white glass vessel, burns for approximately 70 hours and comes packaged in a unique matte gold hinged gift box. Our soy wax blend burns cleaner to enhance your fragrance experience.
Ozonic, watery notes dominate while white florals create a sophisticated, clean base that uplifts you with its fresh and energizing spirit.