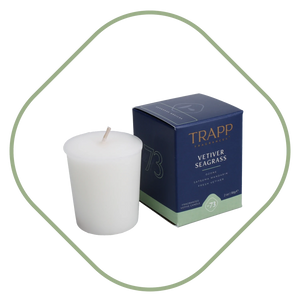 Fragrance Notes: Ozone, Satsuma Mandarin, Fresh Vetiver
The perfect way to try the brand or a new fragrance. Trapp candles are formulated to fill a room with fragrance - even a votive. The votive candle burns for an impressive 15-20 hours. Drop it in your favorite vessel, light it and wait for your room to fill with fragrance.
The warm, woody character of vetiver is brightened by ozonic notes and salty seagrass. Top notes of Satsuma mandarins, grapefruit, and currant give this fragrance the perfect balance of crisp greens, fresh air, and luscious fruits.