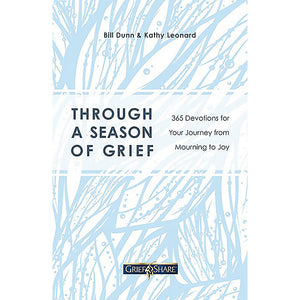 Through a Season of Grief from Bill Dunn and Kathy Leondard is the first 365-day devotional designed to support and uplift you in that first, most difficult year of bereavement.

These devotions offer biblical comfort and practical teaching that will enable you to take steps forward toward healing each and every day. You will better understand the grieving process and will receive needed encouragement along the way.

More than thirty respected Christian professionals-including Kay Arthur, Jack Hayford, and Luis Palau-share their insights on how to walk through the devastation of grief toward wholeness and hope. You will also hear from people like you who lost a loved one and found God's healing presence in the midst of despair.