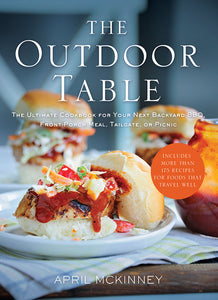 April McKinney celebrates the tradition of packing up your best food and enjoying a meal outdoors.

When most people say they are going out to eat, they usually mean out to a restaurant. But it could mean a front porch brunch with your closest friends; a nighttime concert in the park; a tailgate party at the stadium; a moonlit dinner at the drive-in movie theater; or a picnic at a vineyard.

Whether at a planned event or just an impromptu cookout in the backyard with your friends and neighbors, The Outdoor Table is your guide to creating portable dishes that you can prepare ahead of time and serve cold or at room temperature when you get to your destination that your family and friends will love. It's time to pack a picnic and start making memories.