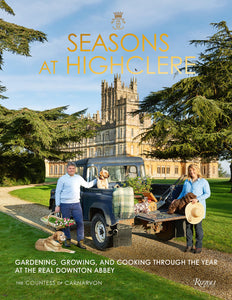 Written by the lady of the manor, this book gives complete access to the world-renowned historic country house and showcases the rhythm of the seasons at Highclere, focusing on gardening, harvesting, cooking, and entertaining.


A new Downton Abbey movie is slated for Christmas 2021. Highclere Castle, having achieved fame as the setting for Downton Abbey, is the epitome of the perfect English country house. The seasons govern life at the estate, and Lady Fiona Carnarvon, the current chatelaine, invites readers inside Highclere, past and present, as she describes the annual rhythms of English country life.

The Countess is a consummate hostess and a compelling authority on the castle, its history, and day-to-day life. With gorgeous full-color photography specially commissioned for this book, here she discusses entertaining for different seasonal feasts and holidays through the year and explores changing tastes and menus, plants and produce grown in the Highclere gardens, the charming menagerie of resident animals, and the traditions of living in the English countryside. Each season brings its own special activities and chores, many ancient, their names often a reference to the traditions and superstitions of country lore. Full of charming ideas and seasonal advice, this book will inspire readers seeking to brighten their approach to living with traditional English country style.