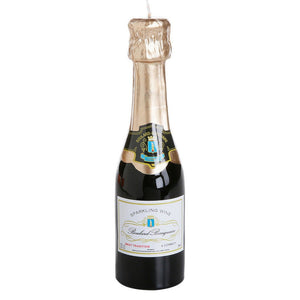 Mini Champagne Bottle Candle

Dimensions: 2" x 7.75 tall"
Burn Time: 6 hours

This company produces and skillfully formulates scented candles using the highest quality wax and vegetal blends with 100% bleach free cotton wicks. This assures an even, long burning fragrance with maximum diffusion. The wax is carefully poured into a variety of unique and beautifully crafted vessels. Their fragrance library contains a multitude of scents which consist of botanicals, epicurean, nature inspired, or aromatherapy from the best perfumeries around the world. The fragrances promise to raise your spirits and enchant the senses.

These candles are keenly developed and designed exclusively by their in-house art and design team and manufactured at their state of the art candle filling facility in California.
This Company is an industry and trend leader. Their design philosophy is founded on a basic respect for nature's ability to balance color, shape, and stimulate the senses. Whether it be Home Fragrance, Décor, Tabletop, Textiles, or Entertaining, each one of their items is crafted with the care, quality, and attention to detail that separates them from the competition.