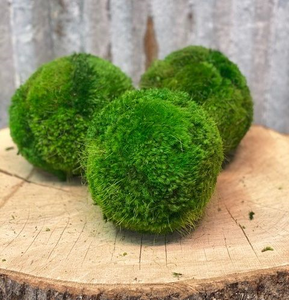 6" in diameter preserved moss ball. 
They are fresh plants that have undergone a delicate conservation and stabilization process. During this process the sap is substituted by a compound made with glycerine which allows the plant to maintain the same feel and appearance as the fresh plant for a long time. The aesthetic results that preserved vegetation offers are surprisingly natural and they have endless possibilities both in interior floral decoration and ornamentation and in floral art compositions.
Preserved moss doesn't need water, as its condition renders it maintenance-free. It will forever flourish all on its own, with little to no effort needed from you.