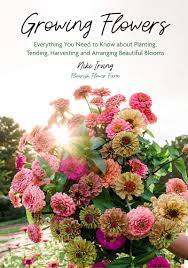 Learn How to Grow Flowering Plants
"Anyone wanting to get started with a flower garden will find plenty of expert guidance here." ―Publishers Weekly

#1 Best Seller in Annual Flowers Gardening, Bulb Flower Gardening, and Perennial Gardening.

In the mountains of Asheville, NC, Niki Irving's boutique flower farm grows specially cut, mountain-fresh flowers with sustainable, natural practices. Now, she brings her organic gardening techniques to your home, helping you grow, harvest, and arrange lush, seasonally inspired flowers.

Revel in flowering plants. This beautifully photographed book features simple, and engaging know-how enabling you to grow, harvest, and arrange a cutting garden of flowers. An instructional guide to gardening for beginners or if you're looking to hone your botanical skills, Growing Flowers teaches everything from caring for a cut flower garden to making simple-yet-gorgeous flower arrangements and botanical bouquets.

An indispensable gardening guide for homebody horticulturists and floral foragers. A flower book with a whimsical twist, Growing Flowers is a go-to reference for those new to herb and flower gardening. Discover flower arranging techniques using blooms, greenery, and even artichokes, vines and berries. Learn about tools of the trade. Get down and dirty with dirt, seasonal rotation, starting from seeds and/or seedlings, and more.

Inside find:

Explanations of soil types and soil preparations
A list of seasonal flowers such as peonies or garden roses for the spring and sunflowers and dahlias for the summer and fall
Basic knowledge to create flower bouquets that include things like sprigs of greenery and even attractive weeds
Growing Flowers is a wonderful addition to any collection of garden books. If you're looking for gardening gifts for gardeners or enjoy flowering plant books and flower books like Floret Farms Cut Flower Garden book, Floret Farm's A Year in Flowers, or The Flower Gardener's Bible, you'll love Growing Flowers.