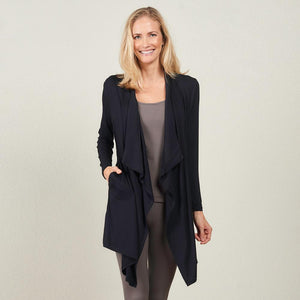 Faceplant Bamboo®Swing Jacket
Versatile swing jacket with loose swaying style and pockets on both sides.
Cozy for snuggling at home or cute enough to become a go-to travel layer. Lightweight and packs easily.
95% rayon from organically grown bamboo, 5% spandex
Our indulgent proprietary fabric has incredible drape, a lustrous, silky feel and launders easily.
Moisture wicking, thermo-regulating, naturally odor resistant, and UV Protection of SPF 50+.
True to size in 2 sizes. Sm/Med fits size US 4-10, Lg/X-Large fits US 12-20. See sizing guide at left.
This women's swing jacket can be worn to go get the mail or out to run errands. No one would ever guess that this is your favorite pajama piece.


CARE INSTRUCTIONS: Love your bamboo. Turn inside out, hand-wash cold or gentle cycle in delicate's bag. Mild detergent. Dry flat or tumble dry cool in delicate's bag.

PROPRIETARY FABRIC: We start with a very luxurious fine yarn made from sustainably grown bamboo and mix it with cotton and enough spandex for light compression support. The finer the denier of the yarn, the softer the feel and the nicer it launders. We could reduce costs with a thicker yarn, but bigger isn't always better. The tiny details make all the difference and Faceplant Bamboo® Cotton is a luxury is worth its' weight in bamboo.