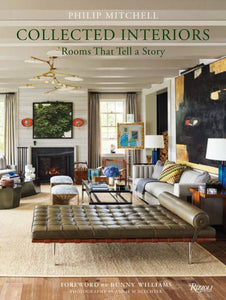 Modern maximalist designer Philip Mitchell reveals his talent for blending collections, family heirlooms, contemporary art, and accessories in visually creative environments that are brimming with personality, color, authenticity, and warmth.


The elegant, clean classicism of Philip Mitchell's style is on full display in these homes, where he masterfully incorporates a wide-ranging mix of antiques, vintage collectibles, and contemporary pieces—everything from inherited furniture collections to modern art—in rooms that are filled with memories and warmth. As a master of what he calls modern maximalism, Mitchell embraces the challenge of taking wonderful things that a homeowner already has and making more of them. Once Mitchell has established a connecting thread among a variety of disparate pieces—whether through finish, material, scale, color, texture, or line—he starts the process of building the relationships that bring a space to life.

Brilliant photographs take readers on in-depth tours of nine homes, ranging from an elegant Upper East Side pied-à-terre to a classic cottage on the water in Nova Scotia. Mitchell's personal narrative in elegant text enlightens, while his takeaways accompanying each home help readers understand how to blend new and old, mix colors and patterns, and fill a home with an eclectic mix that is truly their own.