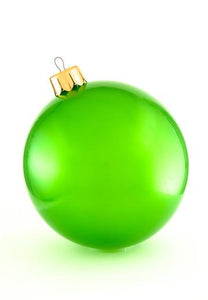 Available in an 18" and 30" Diameter.

Who doesn't love a little sparkle in their life? These bright, bold ornaments are ready to make a BIG holiday. HoliBalls are larger than life inflatable indoor/outdoor ornaments that will make your friends and neighbors jealous.


The HoliBall™ set includes:
- (1) 18" or Ornament
- (1) HoliToppers
- (1) HoliHangers and caps
- Directions for easy inflation

EASY, SIMPLE SET UP
We recommend using the HoliBall™ Fast Flow Inflator to inflate each ornament but they can be inflated using most household air compressor. Once full, you can easily screw in the fiberglass stem holder and HoliHanger and then add the HoliTopper. All that's left is hanging or placing your HoliBall™ to immediately transform your space.

DURABILITY
The HoliBall™ is made of UV resistant engineered plastic polymer that is durable in any climate. You can easily clean your HoliBall™ with soap and water. No special products are needed for cleaning.


COMPACT STORAGE
There is no need for over-sized storage containers that fill up your garage and attic. The HoliBall™ deflates to fit in a 12in x 18in bag for easy storage.