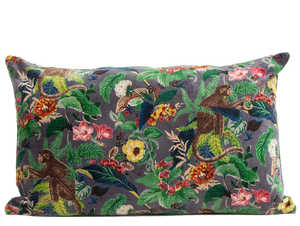 Inspired by the love of color in India these hand printed floral and animal
pillows are an homage to the beautiful vibrant colors of Rajasthan. This
region outshines all of India with its rich colors of saffron, fushchia,
crimson, torqoise, indigo, magenta and lavander! Through the centuries
the idea has been maintained that behind each color is a story of magic
of kings and queens and warriors.

We love the rich history and colors of Rajasthan and think you will too!

Our designers have made this season's introduction of new pillows and coordinating
bags all inspired from their visits to Rajasthan, the architecture, the beauty as
a statement in color!
The colors surround you throughout Jaipur and these designs will bring a touch
of "Rajasthan" the pink city, the blue city the city of so many colors into your
home and life.


16" x 24" accent pillow
zipper closure
deluxe micro filling included, all natural.
dry clean only
Randi & Will Collection focuses on both creating beautiful high fashion designs and having a positive impact on the world. They work closely with the artisans from around the globe that have specialized skills of hand looming and embroidery, all the time supporting socially compliant conditions. The work gives the artisans dignity and a livelihood to support their families. The Randi & Will husband and wife team is proud to be making a genuine difference in the lives of many women and men and reinventing all these native artisan skills for the modern woman to enjoy. Hand looming, hand embroidery, hand weaving, are all specialized skills that this dynamic design team have incorporated into their designs.

Their love of textiles and textures has spanned many decades including a long career in designing home furnishings. Today the couple focus their passion on fashion and have designed unique collections of ponchos, kaftans, shawls, and other personal accessories all with the emphasis on textiles, colors, texture, and quality. Their commitment to exploring new materials with an emphasis on traditional skills translated to the modern woman is evident in each collection.

The woman Randi & Will design for is modern, she is independent and has her own flair...she loves the summer casual months with natural materials that breathe. She can be casual and fun. She also loves wrapping herself in a gorgeous silk evening cover up for a formal occasion, she loves pretty things that are the highest quality. The Randi & Will modern woman lives in both worlds and enjoys dressing for both. Randi & Will love to design for her specialty items, unique accessories, exceptional quality, all in limited collections.