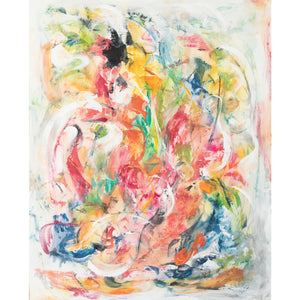 For over 43 years, the Artists Guild of America has been designing and producing original works of art that are individually painted by your studio artists in Los Angeles, California. Yes... Made in the USA!

Each canvas is painted entirely by hand by one studio artist from start to finish. No two will ever be alike!

We use 100% acrylic paints. (Oil paints tend to lose their color tones and become muddy when mixed with other paints and materials.)

We add heavy textures and thick strokes of paint too most of our paintings, and also apply sand, decoupage tissue, crackle, foils, and other unique elements to create depth and dimension.

We use 100% cotton canvas. Any art on canvas may tend to loosen overtime. If this occurs or an object happens to press into the front or back of the canvas causing an indentation, simply spray water on the back of the canvas and it will tighten in a matter of minutes.

Each canvas is finished with a clear acrylic sealer. Wipe with a damp cloth to remove dust and particles. You can even customize your canvas and add your own brush strokes and paint if you wish. (Small tubes of acrylic paint are available at your local craft store)

We are green! Again, we use water-based paint and cotton canvas (versus oil paints and canvas made with the petroleum based polyester blend.)
Dimensions: 40x50"